Splendid Candles Benevolent Flame

DUET is authentically designed to provide an exceptional candle gifting experience, whether it be a deserved self-indulgence or a gift bestowed.
The benevolent flame is realized through DUET's steadfast approach to mindful production and packaging of our product.
Supporting the IDDeal Foundation
Our candles are proudly hand poured in the USA thanks to our mutually beneficial partnership with the IDDeal Foundation. The IDDeal Foundation is a non-profit that creates the IDDeal life for people with intellectual and developmental disabilities (I/DD) through work, live and play. Our candle manufacturing relationship benefits people with I/DD by creating workplace opportunities.
Additionally, for every candle purchased DUET makes a donation to the IDDeal Foundation.
Learn More about IDDeal
Clean Composition
Our candles are ethically made without parabens, phthalates, sulfates and are cruelty-free.
Our refined fragrances meld beautifully with our soy-coconut wax blend creating an indulgently fragrant environment. The soy in our wax is sustainably harvested in the USA. We use all-natural, 100% cotton wicks.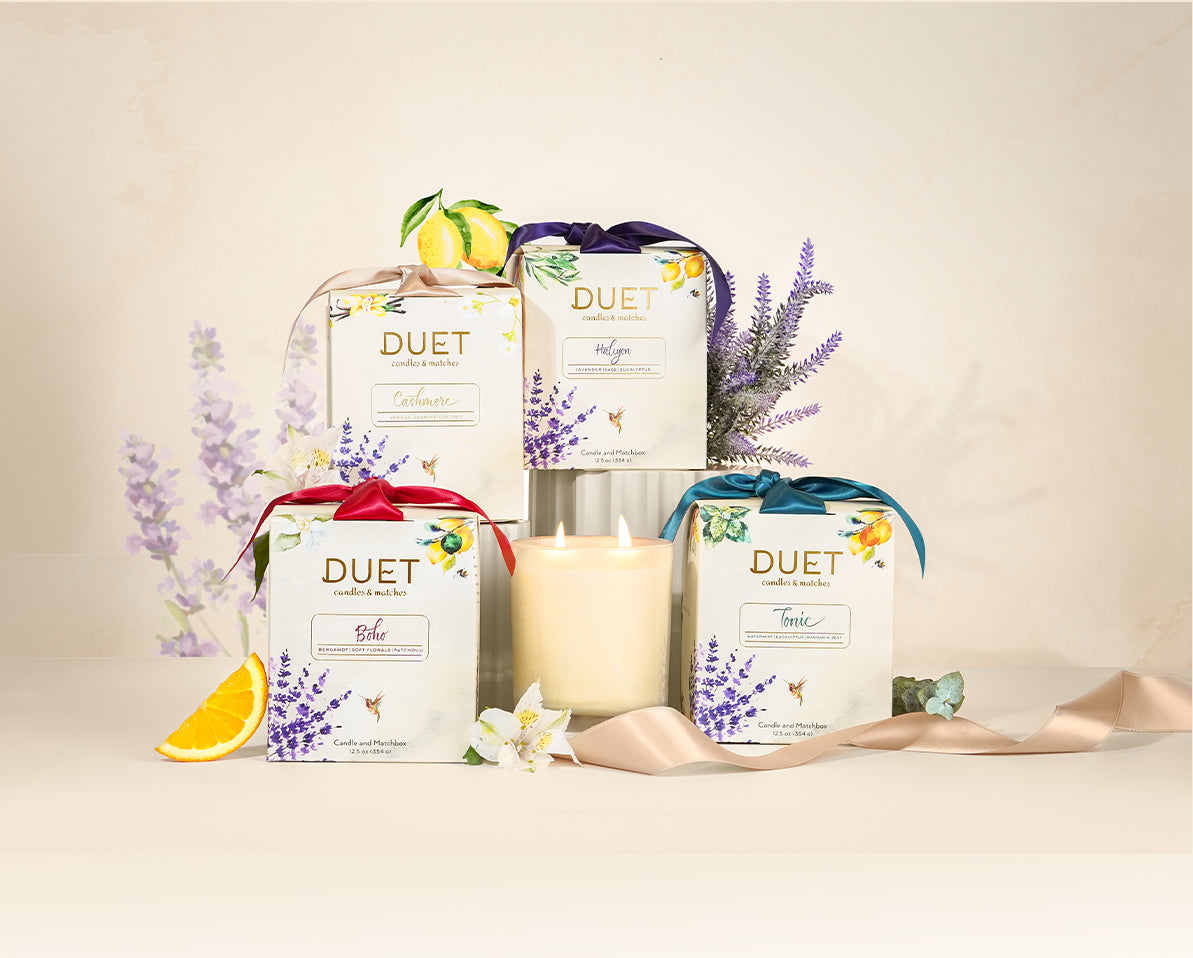 Sustainability
Central to our environmentally conscious packaging is our Sustainable Green Print Partner (SGP), SunDance USA. 
Our packaging is produced using veggie-oil based inks on paper that is Forest Stewardship Council (FSC) certified.
Repurposing DUET Candles
Stop burning your candle when 1/2 inch wax remains.
Place the container in the freezer for a few hours to facilitate the safe removal of the final wax.   
Once the wax is removed, hand-wash with warm soapy water. 
Re-use ideas include but certainly not limited to:  flowers, make-up brushes, pens/pencils, coffee pods… and make sure to tag @duetcandles to share your creativity!